---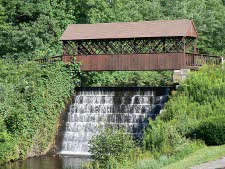 About Avon
Avon was originally settled in 1645 as part of Farmington. It was known as Northington, or the North Parish of Farmington, until it was incorporated as a separate town in 1830, taking its name from the Avon River in England. The town covers 22.6 square miles, or 14,454 acres and has 6,993 households.
Population - 18,298 Median Household Income - $116,565 Millrate - 28.80
Roaring Brook Elementary
30 Old Wheeler Lane
Avon, CT 06001
860-404-4810
Grades: K thru 4th
Pine Grove Elementary School
151 Scoville Road
Avon, CT 06001
860-404-4790
Grade: K thru 4th
Thompson Brook School
150 Thompson Road
Avon, CT 06019
860-404-4870
Grade: 5th and 6th
Avon Middle School
375 West Avon Road
Avon, CT 06019
860-404-4770
Grade: 7th and 8th
Avon High School
510 West Avon Road
Avon, CT 06019
860-404-4740
Grade: 9th – 12th
Avon Old Farms School
500 Old Farms Road
Avon, CT 06001
860-404-4100
All Boys – Grades: 7th - 12th
Miss Porter's School
60 Main Street
Farmington, CT 06032
860-409-3500
All Girls - Grades 9 - 12
The Ethel Walker School
230 Bushy Hill Road
Simsbury, CT 06070
860-658-4467
All Girls - Grades 6 to 12
Renbrook School
2865 Albany Avenue
West Hartford, CT 06117
860-236-1661
Coed - 3 years old to grade 9
Kingswood-Oxford
170 Kingswood Road
West Hartford, CT 06119
860-233-9631
Coed - Grades 6 - 12
Choate
333 Christian Street
Wallingford, CT 06492
203-697-2000
Coed - Grades 9 - 12
Loomis Chaffee
4 Batchelder Road
Windsor, CT 06095
860-687-6000
Coed - Grades 9 - 12
The Governor's Horse Guards
232 West Avon Rd. (Rte. 176)
860- 673-3525
First Company Governor's Horse Guards is the oldest continuously active mounted cavalry unit in the United States. Troop drills every Thursday night are open to the public. Founded in 1788 by Hartford veterans of the Revolutionary War. Come by and see the beautiful horses.
Farmington Valley Arts Center
25 Arts Center Lane
Avon, CT 06001
860-678-1867
Farmington River tubing
92 Main Street
New Hartford, CT 06057
860-693-6465
Farmington River Tubing will put you and your friends in their specially designed river tubes for a 2.5 mile ride down the wild and scenic Farmington River. Traveling over three sets of rapids, you'll experience a thrill as you splash through the white water.
Ski Sundown
Ratlum Road
New Hartford, CT 06057
860-379-9851
Great family ski resort offering steeps, terrain park and night skiing.
Heublein Tower / Talcott Mountain State Park
Route 185 (diagonally opposite Penwood State Park)
860-677-0662
The 165 foot tall tower is the Farmington Valley's most visible landmark. Heublein tower is part of Talcott Mountain State Park and features hiking trails with incredible views and Tower tours.
CT Science Center
250 Columbus Blvd.
Hartford, CT 06103
860-SCIENCE
150 hands-on exhibits, a state-of-the-art 3D digital theater, four educational labs, plus daily programs and events, the Connecticut Science Center offers endless exploration for children, teens and adults. Every part of science will be at a visitor's fingertips, from Physics to Forensics, Geology to Astronomy.
Golf Club of Avon - Private
160 Country Club Road
Avon, CT 06001
860-673-3216
Blue fox Run - Public
65 Nod Road
Avon, CT 06001
860-678-1679
Farmington Woods - Public
43 Heritage Drive
Avon, CT 06001
860-673-0062
Tunxis Plantation – Public
87 Town Farm Road
Farmington, CT 06032
860-677-1367
Farmington Country Club - Private
806 Farmington Ave
Farmington, CT 06032
860-677-1683
Tower Ridge Country Club - Public
140 Nod Road
Simsbury, CT 06070
860-658-9767
Hop Meadow Country Club - Private
85 Firetown Road
Simsbury, CT 06070
860-651-0686
Gillette Ridge – Public
1360 Hall Blvd
Bloomfield, CT 06002
860-726-1430
Wintonbury Hills - Public
206 Terry Plains Road
Bloomfield, CT 06002
860-242-1401
Wampanoag - Private
60 Wampanoag Road
West Hartford, CT 06117
860-236-1691
Simsbury Farms - Public
100 Old Farms Road
Simsbury, CT 06070
860-658-6246
Fairview Farms - Public
300 Hill Road Road
Harwinton, CT 06791
860-689-1000
Avon Old Farms Hotel
Route 10 and Route 44
Avon, CT 06001
860-677-1651
800-836-4000
http://www.avonoldfarmshotel.com
The Farmington Inn
827 Farmington Avenue
Farmington, CT 06032
860-677-2821
800-648-9804
http://www.farmingtoninn.com
The Hartford/Farmington Marriott
15 Farm Springs Road
Farmington, CT 06032
860-678-1000
800-228-9290
The Hartford/Farmington Marriott
Homewood Suites by Hilton
2 Farm Glen Blvd.
Farmington, CT 06032
860-321-0000
Homewood Suites by Hilton
Centennial Inn Suites
5 Spring Lane
Farmington, CT 06032
(860) 677-4647
(800) 852-2052
http://www.centennialinn.com
The West Hartford Inn
900 Farmington Avenue
West Hartford, CT
860-236-3221
http://www.westhartfordinn.com
Sheraton at Bradley Airport
Bradley International Airport
Windsor Locks, CT
800-325-3535
Sheraton at Bradley Airport
Hyatt Summerfield Suites
Hartford North/Windsor
200 Corporate Drive
Windsor, CT 06095
Phone: 860 298 8000
Hyatt Summerfield Suites
The Simsbury Inn
397 Hopmeadow Street
Simsbury, CT 06070
860-651-5700
800-634-2719
http://www.simsburyinn.com
Residence Inn by Marriott
55 Simsbury Rd
Avon, CT 06001
Phone: 860-678-1666
Residence Inn by Marriott
Pinnacle Real Estate Group
Coldwell Banker Residential Brokerage
Ph: 860.515.1130
290 W. Main Street
Avon, CT 06001 US
RES.0790557